WOW finally, I am so excited for this movie to come out and more excited that I get to attend the pink carpet event tonight at Radio City Music Hall!!! Be sure to visit the blog later on tonight for my full coverage on the Sex and the City premiere!!! This is eight months in the making and I want to thank ALL of you for making this blog what it is!! If it wasn't for the fans…it would just be another blog! ;)
BTW The Sex and the City: Original Motion Picture Soundtrack has dropped! Order from Amazon.com, download off iTunes, or pick it up wherever CD's are sold.
ALSO, check out the ladies on TV this week: 
Wednesday 5/28:
TODAY SHOW: Kristin Davis

THE EARLY SHOW: Kim Cattrall

REGIS & KELLY: Kristin Davis
Thursday 5/29:
TODAY SHOW: Sarah Jessica Parker & SATC Fasions

THE EARLY SHOW: Kristin Davis

REGIS & KELLY: Sarah Jessica Parker

THE VIEW: Mario Cantone

THE HOUR WITH GEORGE STROUMBOULOPOULOS: Kim Cattrall (Canada)

LIVE FROM THE RED CARPET: E! is live from the red carpet of the Sex and the City premiere @ 8:00PM
Friday 5/30:
TODAY SHOW: Cynthia Nixon

THE EARLY SHOW: Sarah Jessica Parker

REGIS & KELLY: Cynthia Nixon 
BostonHerald.com: For actress/fashionista Sarah Jessica Parker, playing Carrie Bradshaw on HBO's "Sex and the City" was more than just a television role.
"It's been, now, almost 11 years of my life. I don't know how one can sum it up," Parker said.
The 43-year-old actress and her husband, actor Matthew Broderick, have a 5-year-old son, James Wilkie. Parker called Carrie "a life-changing experience. Personally it's not the same as having a child, it's a very different experience. But certainly it's enriched my life in ways that I could have never imagined."
The movie version of the long-running HBO series opens Friday. As both producer and star, the two years she spent getting "Sex" made "seems nothing short of miraculous. This is the movie that Michael Patrick (King, the film's screenwriter and director) and I hoped for, fought for, dreamt of, battled for, doggedly pursued."
The struggle began with the search for a studio once HBO passed on a movie. Parker credits the fans for sparking New Line to pony up.
"To make a movie about four women over 40 is really not the way that Hollywood likes to spend their money. It's really the commitment and the energy of the audience, through DVDs and syndication," she said. "Had they not have been so devout, we could not have convinced a studio."
Unlike the first season of "Sex," when outrageousness was the order of the day, the movie charts a different time for Carrie, Samantha, Charlotte and Miranda.
"All the Botox in the world isn't going to change time. There is too much documentation. To run from it, to have a story about four women running around Manhattan, drinking liberally and looking for sexual conquests, is just not the story we want to tell," Parker said.
That's why "Dreamgirls" Oscar winner Jennifer Hudson appears as Carrie's assistant. "She illustrates the difference between being 20 and coming to New York with all that hope of promise and the more silly things, fashion, socializing. All that stuff that a 20-year-old should be exploring."
Is this the end for Carrie?
"I just don't feel like that is a decision that's mine to make. It's greedy right now to think about anything beyond this experience."
NEW SEX TV SPOT…
Check out this new ad for the 2009 Mercedes-Benz GLK that appears in the Sex and the City movie….cute lol
Bandelle.com: Do you have plans for the Sex And The City movie premiere? Whether you are getting together with your girlfriends or dragging your hubby along, you might want to watch the movie in a little SATC inspired dress to celebrate the occasion. OK, I may be going a tad overboard but here are some looks just to get you thinking. Choose a character and start digging through your wardrobe to create your own SATC inspired look…
Carrie: Anything goes for this fashion icon. I heard she has a more "mature" look in the movie but the yellow bustier dress could have been worn by Carrie in the early days. I guess we'll be able to judge for ourselves after seeing her 81 wardrobe changes in the movie (left to right: sister eek dress by Giles, edith bustier dress by Luella, and little joe tunic by Gail Elliott). 
Samantha: Often form fitting dresses in solid bands of saturated color — usually in pinks, oranges and blues. Kim Cattrall wore the Nicole Miller dress above on an interview with Oprah and would have been perfect for the movie if it were in turquoise blue. Remember to wear your collar up if you have a similar outfit to the DKNY dress (left to right: color block stretch twill dress by Nicole Miller, leaf print dress by DKNY, and color block bandage dress by Hervé Léger).
Miranda: It's all about the fabrics for Miranda. Silky patterns and belted high waisted dresses look fantastic on her. Try the Vanessa Bruno deep purple dress with a gold belt (left to right: jet printed dress by Antik Batik, dance silk jersey dress by Single, andjersey mini by Vanesa Bruno).
Charlotte: Sweet Charlotte suits a-line skirts, particularly in pastels, or any outfit inspired by Audrey Hepburn (left to right: sleveless wrap dress by Neiman Marcus,diamond print dress by Milly, basketweave dress by Tibi).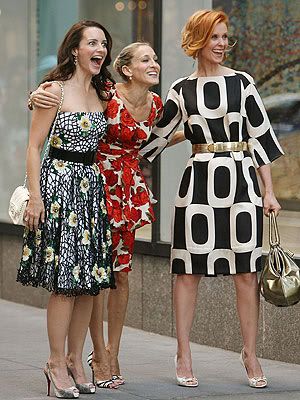 TheBudgetFashionista.com: From all the movie stills making the rounds, the Sex and the City ladies seem to be all about the waist-cinching belt, which makes perfect sense considering they've got the figures for it. Truly, though, belts are great for creating a little hourglass action on any body type. It's also another accessory option to boost an otherwise ho-hum outfit — and in SATC we're seeing color, studs, metallic, you name it. Fun. 

Xhilaration Reversable Wide Sash Metallic Belt, Silver, $14.99, Target
Ann Klein Factory Girl Patent Belt, $42, Macy's
Woven Rope Belt, $20, Urban Outfitters
Non-Leather, Three-Row Pyramid Belt, $19, Hot Topic
SJP ON TV + COSMO GUY AT THE SATC PREMIERE 

Sarah Jessica Parker was Letterman last night, while in New York City preping for the BIG Sex and the City Movie premiere taking place on Tuesday! I will be covering the pink carpet event live from New York so make sure to stay tuned to the blog on Tuesday night! I hope to have some exciting interviews for you! :)

The official Sex and the City Movie soundtrack has leaked online! If you're the naughty type and can't wait until text Tuesday to buy your copy, you can find it over at Sprock World!
BTW, I LOVE the full version of India Arie's "The Heart Of The Matter"…sums up the movie perfectly! :)
Michael Patrick King: "It's a big deal — a very big deal!" King exclaims when asked about the age thing. And he firmly believes it ensures that the new instalment of the Sex and the City saga retains its social relevance. But he also knew from the beginning that the movie would have to depict Samantha, Carrie, Charlotte and Miranda moving on with their lives and coping with new challenges and crises. 
NEW SEX AND THE CITY TV SPOT
Thanks to visitor Jan for pointing out a new Sex and the City TV spot that has made its way online! Check it out above! 
…only one more week!!! :D 
Disclaimer: This blog is in no way affiliated with Sex and the City, HBO or New Line Cinema.
All images on this blog are those of their respectful owners.